September 2006.
MY SPACE site is up and running www.myspace.com/injuryonline featuring one untitled demo track.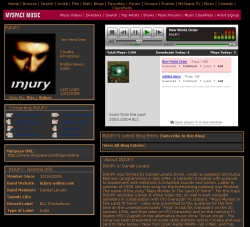 ---
September 2004.
Interbreeding IV - Gefahrlich, tracklisting is finished. This new double compilation by BLC Productions brings New World Order - Shiva the Destroyer Remix by Battery Cage, and some of the best artists on the scene: The Retrosic, System Syn, Mindless Faith, Terrorfakt, UV, and remixes by Front 242, System Syn, Massive In Mensch, Agonoize, Battery Cage.
Watch out for this DCD in October.
---
August 2004.
Watch out for new BLC compilation Interbreeding IV - Gefahrlich -, featuring exclusive New World Order remix by Battery Cage.
---
April 2004.
Recent issues of Zillo magazine, Orkus magazine and Sonic Seducer all presenting interviews with injury.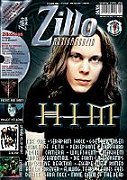 ---
March 2004.
Tampa's premiere Gothic Industrial Radio Show Dark Horizons, voted injury as The Dark Horizons Artists of the Month (March 2004.) Thanx you.
German webzine Elektrauma brings new Scars From The Past review. Read it here.
Orkus Compilation XIV (CD in new March issue of Orkus magazine) includes track Incest - Flesh Field remix. April issue of Orkus will bring exclusive interview.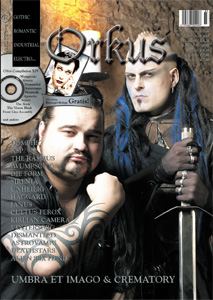 April issue of Zillo magazine, will bring interview with injury and review of Scars From The Past CD.
---
February 2004.
New issue (02/2004.) of Sonic Seducer includes Scars From The Past review and story about injury and BLC Productions. Two trax are released on Sonic Seducer CD compilation Cold Hands Seduction vol. 34.
---
January 2004.
New injury reviews at Chain DLK and Black Sheep.
Scars from the past is two weeks now in DAC bullets. It's not on the official top 10 DAC albums, but it is at no. 12.
New issues of Orkus and Sonic Seducer magazines will feature injury on the CD compilations.
Read the interview with Danijel at Wetworks.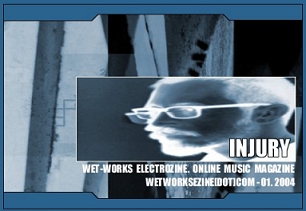 ---
December 2003.
BLC Productions released new double CD compilation Interbreeding II - Industrial mutation. It features injury song Incest (Pulse Legion remix). For complete tracklisting go to releases.
Worldwide free shipping on purchases from BLC Productions through PayPal.
---
November 2003.
- Scars From The Past - OUT NOW!
Worldwide free shipping on purchases from BLC Productions through PayPal.
Also available from Metropolis Mailorder, Amazon, Broken Seal and CD Baby
---
August 2003.

injury signed with BLC Productions. Wach out for Scars from the past, coming soon from BLC Productions.
---
April 2003.
At the moment injury is talking with some labels about the record deal.
---
May 2002.


Side-Line and Triton Records released new Elektrauma 6 compilation. It features injury song New World Order. For complete tracklisting go to releases.

---
December 2001.


Sonic Seducer music magazine and NetMusicZone started second Battle of the bands. 45 best demo bands enter the contest to be voted by the people, who is going to be the best and win recording in profi studio. injury entered this contest with the new song Big Brother - part 2. The song can be downloaded as full mp3 file and you can vote for injury in this contest. Just click on the Battle of the bands 2001. picture.

---
November 2001.


RTC2 mastering is finished and release date is Monday, January 7. 2002. Due to the recent tragedies, RTC2 has been reorganized, and now includes three songs about 911 and U.S. retaliation, and many songs about the state of humanity and war. There are 21 songs altogether, on two CDs, but the price will be the same as our single CD top price of $12.99. There will be a 24 panel booklet for the lyrics. Steph Dumais is in the process of redoing the artwork. Check it out here.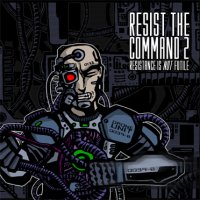 ---
May 2001.

Tracklisting for Resist The Command 2 compilation is available at Dystopian Records site.
---
April 2001.

New World Order is a new song finished exclusive for Resist The Command 2 compilation. It will be out this summer on Dystopian Records.
---
January 2001.

Dystopian Visions compilation is out now and is getting great reviews.


injury remix of Moksha's track Miss is out now on Prospective Music Magazine - Volume 5 compilation, among great electro names such as: In Strict Confidence, Icon Of Coil, Assemblage 23, Flesh Field, Psyche, God Module, ...
---
5. October 2000.

Official injury site www.injury-online.com is up and runing on new server. Guestbook will be active sometime next year, or maybe not.

The tracklisting for Dystopian Visions compilation is made public. Check it out here.
---
28. September 2000.

DYSTOPIAN VISIONS compilation Dystopian Records is finished and will be out by the end of November.

injury remix for MOKSHA track Miss will be released on new Prospective Magazine compilation, out in late October early November.
---
1. August 2000.

Neo-Industrial Resistance 2000 compilation featuring: injury, Strategy, Biopsy, Diverje, X On Mind, Frontrunner, ... is out by 4D Records, but only exclusive on the Internet. The compilation (songs in MP3 format) can be downloaded at 4D Records.

Remix for MOKSHA track Miss is finished. Release date tbc.
---